Regular price
$167.00 USD
Regular price
$249.00 USD
Sale price
$167.00 USD
Unit price
per
Sale
Sold out
Retro Game Console with 114'000+ Games
✔ Games Console with 114'000+ Games
✔ Add and save Games
✔ PSP, PS1, N64, DC, Naomi, MAME, Sega Saturn
✔ Over 60 Emulators & Android System
including free shipping
Welcome to the world of nostalgia with our retro game console with 114,000+ games! Immerse yourself in an unforgettable gaming experience with over 114,000 games from your youth and bygone eras. This all-in-one console offers an amazing variety of classics, from iconic 8-bit and 16-bit games to retro arcade hits.
Experience the fascination of timeless titles and share the joy with family and friends because this console is suitable for all ages. The user-friendly interface allows for easy navigation and instant play. Thanks to the HDMI connection, you can easily connect the console to modern televisions and enjoy the retro experience in HD.
The retro game console with 114,000+ games is also a perfect gift for all gaming enthusiasts and nostalgia lovers. Bring back memories and relive the fun and challenge of classic games. Do not hesitate any longer - get the Retro Game console now and immerse yourself in the golden age of gaming!
Variants:
64GB: 90'000+ games
128GB:

95'000+ games

256GB: 114'000+ games

Selectable with 2 or 4 controllers
Three systems in one:
Retro Game Game Console with 114,000+ games is the latest three-system game console + TV BOX, which integrates EmuELEC 4.5 game system, Android and CoreELEC high-definition audio and video system.
Latest EmuELEC 4.5 with over 114,000 games:
The Retro Game game console already has more than 114,000 pre-installed retro games that are ready to play as soon as it is connected. A variety of action games, adventure games and role-playing games are waiting to be challenged to relive your childhood memories.
60+ game series – plug and play:
The game console already includes 60+ emulators with 90,000-114,000 games: run smoothly on PSP/PS1/Naomi/Neogeo/Arcade/Sega Saturn/N64, etc.
Android system:
The preinstalled Android 9.0 system offers better software compatibility, better games and apps, and better user experience.
Newly improved cooling system:
Equipped with high-quality heat sinks, the retro game console with 114,000+ games cools down quickly and avoids high temperatures during long-term use. So it runs smoother, even with longer game times, without any frame drops or freezes.
Multipurpose remote control:
The remote control is compatible with games, Android, audio and video systems and only one remote control is required to switch between the three systems.
Note: Because there is only one TF card slot, the game and the CoreELEC system cannot be used at the same time
Package list:
1x Retro Game console with 114,000+ games

2x TF card

1x Remote Control

1x Controller

1x HD cable

1x Power Supply
Particularities:

EmuELEC4.5+ Android +CoreELEC system in one

Over 114,000 games - plug and play

Add and save games

4K or 8K output

Upgrade the fans, cool down quickly, the game runs more smoothly

Improved controller: A USB receiver controls 2 gamepads

Note: 2 controllers with one USB receiver, 4 controllers with 2 USB receivers
Product Details:
Product: Retro Game game console with 114,000+ games

WiFi: 2.4G/5G

Video Game Controller Included: Yes

Supported languages: French, German, Italian, Spanish, Portuguese, Russian, English, Swedish, Polish, Greek, Turkish, Korean, Dutch, Chinese, Ukrainian, Japanese

SoC: Amlogic S905X3 quad core

ROM: 4G DDR3

RAM: 32G eMMC

Output: 8Kx4K@24 fps

OS: Android 9.0+ EmuELEC4.5+CoreELEC

KINHANK model: X3 PLUS

Games: 114,000+/95,000/90,000 games

Features: Cooling System, Plug and Play, Smart Android TV Box

Emulators: For PSP, PS1, N64, DC, Naomi, MAME, Sega Saturn

Bluetooth Compatible: Yes
Share
View full details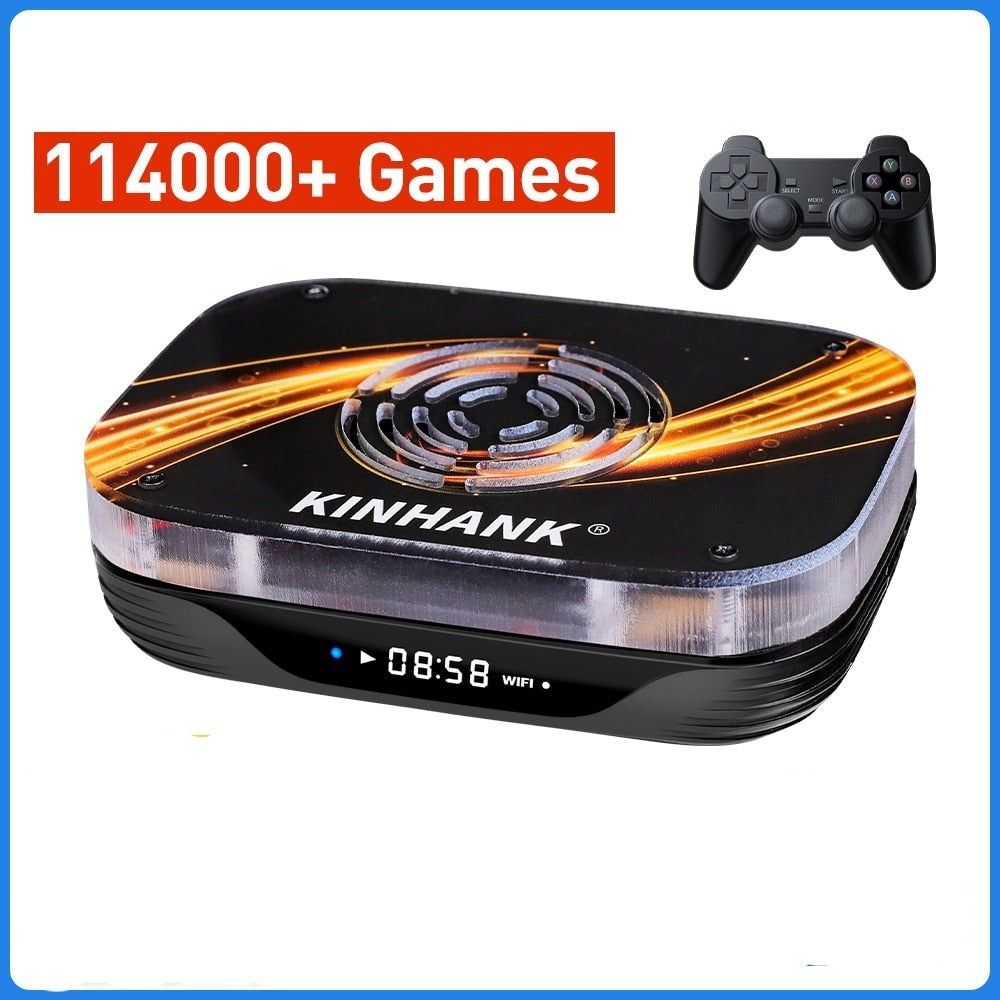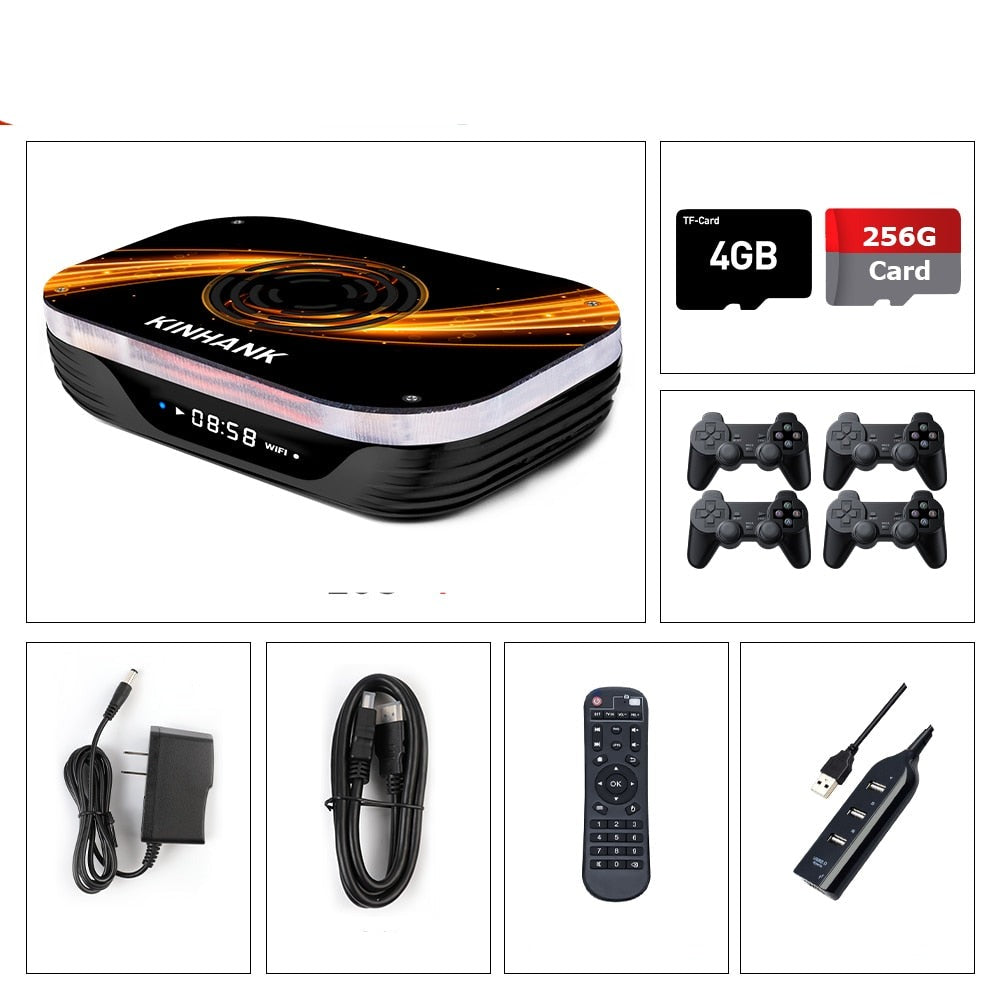 Your Satisfaction is our top Priority
✔ Buyer protection:

Minikauf offers all of our customer's buyer protection, which assures you of a full refund of the purchase price if you do not receive your order.

✔ Free Shipping:

All Minikauf.ch customer's benefit from free delivery on all online orders.

✔ Pay easily & securely:

All orders can be paid securely by PayPal, Credit Card or Bank transfer. Simply choose your preferred payment method.