Regular price
$61.00 USD
Sale price
$45.00 USD
Unit price
per
Sale
Sold out
Stretch Sofa Cover Deluxe, One Color
✔ Protects the Sofa from Dirt
✔ Suitable for 1 to 4 Seater Sofa
✔ Durable and easy to care
✔ For Corner Sofa, L-Sofa & U-Sofa
including free shipping
Transforming an old, dirty and worn out sofa into a new one? No problem with the stretch sofa cover Deluxe, one color!
This simple waterproof protective cover protects your furniture from stains, splashes and wear and tear to prevent damage. It is ideal for homes with pets or anyone looking for an economical solution to furniture protection. You can even buy different colors and decorate the sofa according to the season and mood.
This 1 to 4 seater deluxe solid color stretch sofa cover protects your sofa from stains, spills, pet hair and other damage. This stretch sofa cover not only has a protective function, but is also a tasteful addition to any interior style. Made of elastic polyester and spandex, our stretch sofa cover can be easily stretched over the piece of furniture . The stretch sofa cover, one color fits most 1 to 4 seater sofas. In addition, the stretch sofa cover slips easily over the sofa and can be tucked into cushions for a just-right look. The sofa cover can also be easily removed for cleaning and is suitable for both hand and machine wash .
The stretch sofa cover Deluxe, one color fits almost all sofa chairs :
Determine correct size for stretch sofa cover:
Please measure the size of your sofa carefully. Also consider the armrests. If you don't consider the armrests, the sofa cover may not fit your sofa.
For a single sofa cover, the length of the sofa should be between 90 and 140 cm

For two-seater sofa covers, the length of the sofa should be between 145 and 185 cm

For Three Seater Sofa Cover The length of the sofa should be 195-230cm

For four-seat sofa covers, the length of the sofa should be 235-300cm

For sectional or corner sofa, we recommend buying 2 covers. The size of the cover depends on the length.
1-seater: 90-140 cm
2-seater: 145-185 cm
3 seater: 190 - 230 cm
4 seater: 235 - 300 cm
No Slipping : If your sofa is L type or corner combined with 2 separate pieces, then you need 2 stretch sofa covers. The highly elastic and flexible stretch sofa cover, one color, nestles perfectly against the sofa and is additionally stretched with the supplied foam rollers
PROTECT : This stretch sofa cover deluxe solid color slipcover protects your furniture from spills, stains and to prevent tears before it's ruined forever. It is ideal for homes with pets or for anyone who wants an economical solution for furniture protection in their living room and impress their guests on a budget.
DURABLE AND EASY CARE : The deluxe solid color stretch sofa cover is easy to wash: machine washable in cold water, gentle spin, mild detergent, do not bleach, do not tumble dry, do not iron.
Steps to install the protective cover:
Locate the label on the protective case. Place the slipcover over the sofa with the label attached to the back of your sofa.

Distribute the fabric evenly on the sofa. Adjust the center of your slipcover between the armrests.

Slide the white sponge cylinders into the spaces between the cushions. This shapes the cover of the sofa and helps keep the fabric shape taut.

Now tilt the sofa up and tie the elastic ties. Try pulling the front, back and both side ties together.

Pull out all the excess fabric and pin it firmly in the crease between the armrest and the seat.

Now put the cushions on your sofa and relax!
Product Details:
Product: Stretch Sofa Cover Deluxe, One Color

Waterproof: Yes

Style: Solid

Size: 1 Seater, 2 Seater, 3 Seater, 4 Seater

Season: Spring, Summer, Winter

Material: 95% Polyester, 5% Spandex

Function: Waterproof Sofa Cover

Fabric Care Instructions: Machine washable

Fabric Style: Solid Color

Fabric composition: 140 g/m²

Applicable sofa: L-shaped, Corner Sofa, Futon Sofa, Modular Sofa

Non-Slip: Yes
Would you prefer a colorful Stretch Sofa Cover ?

In addition, the matching single-colored Pillowcases ?
Share
View full details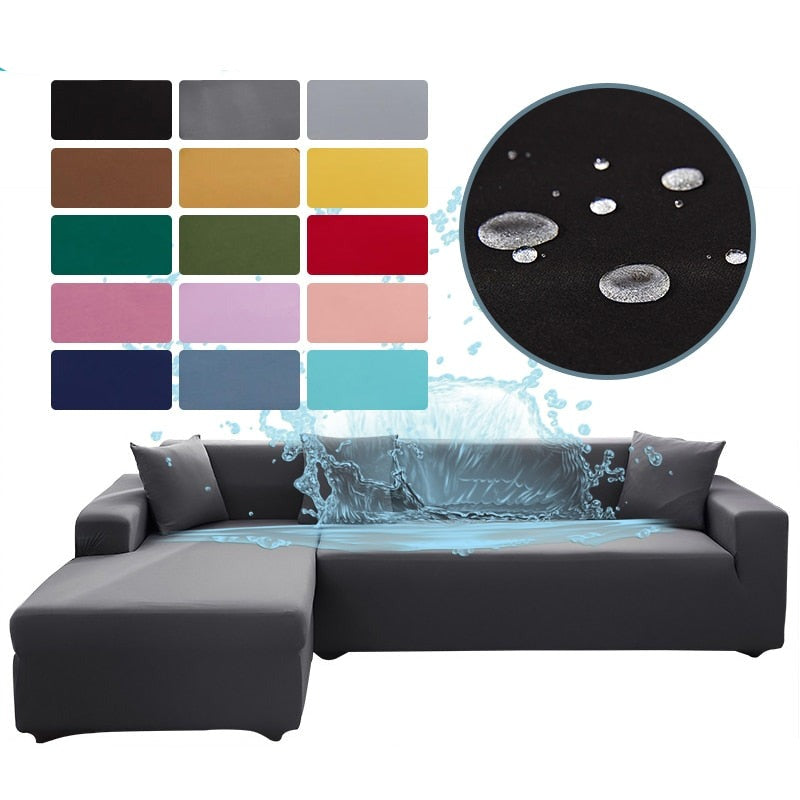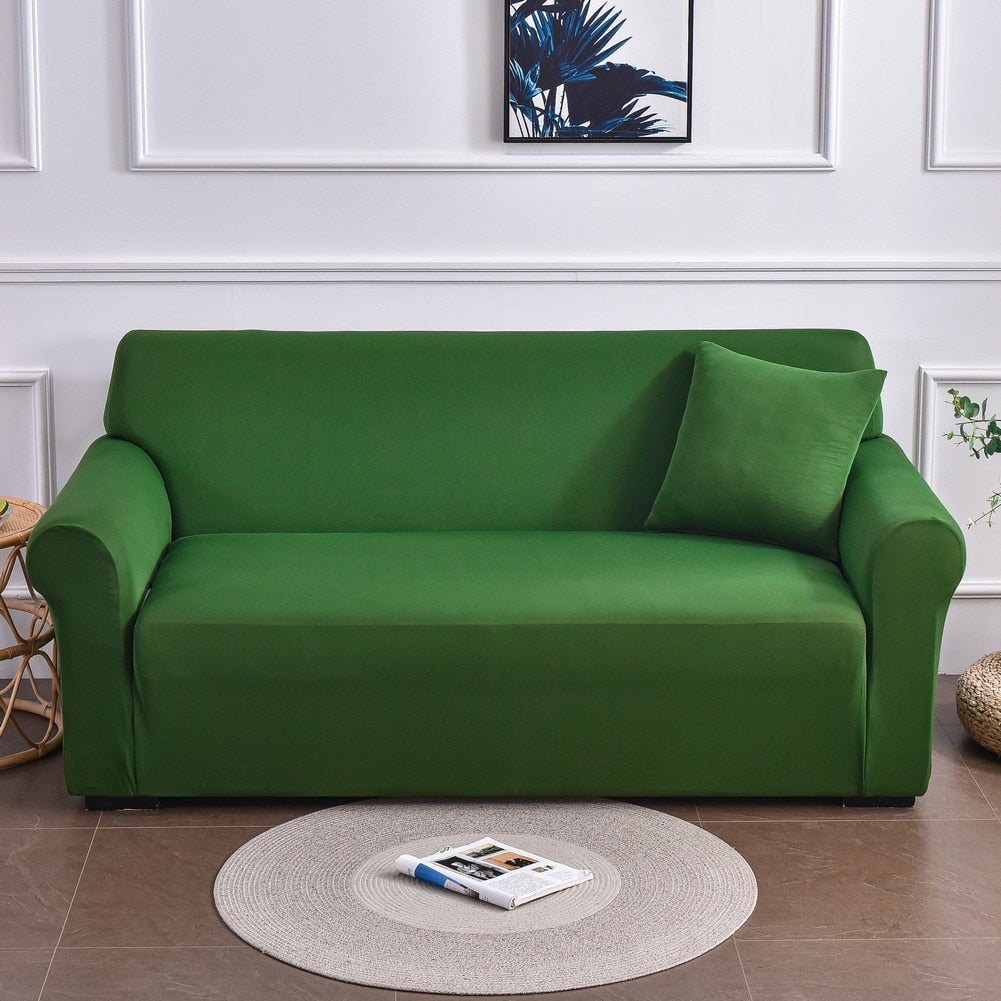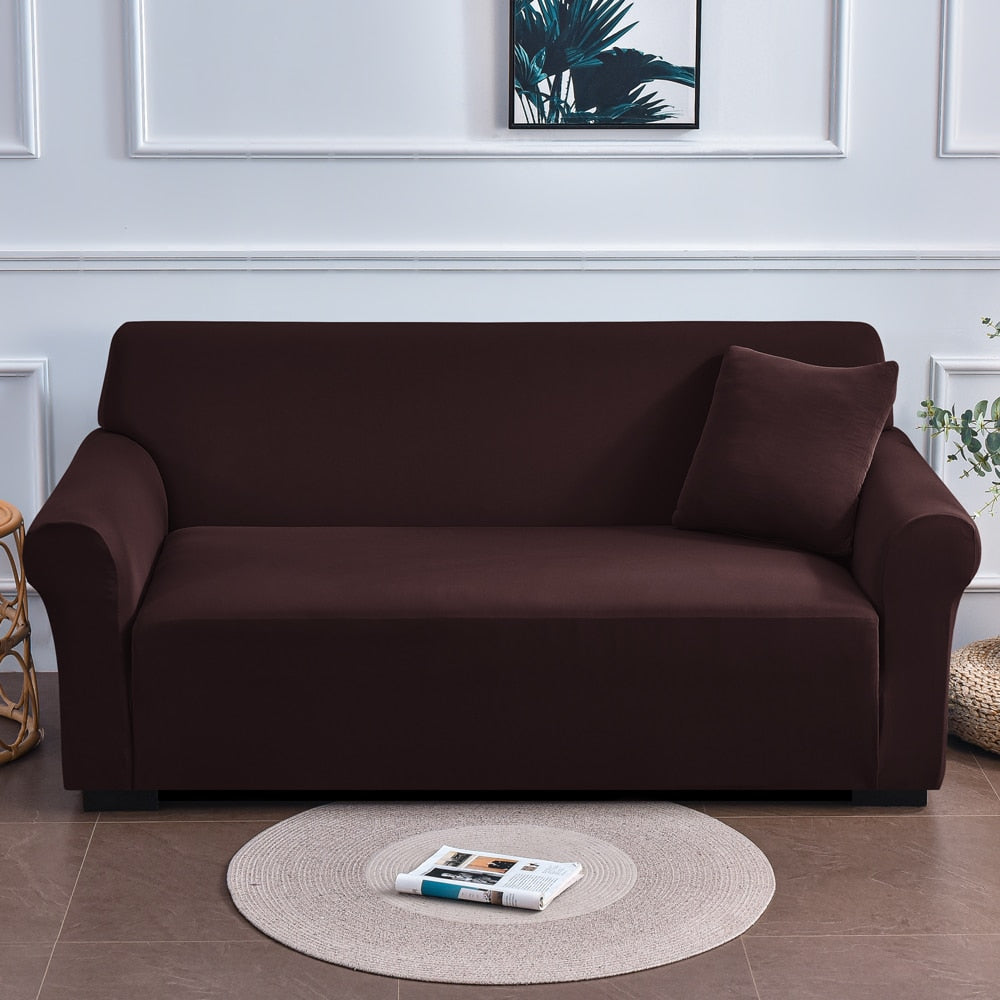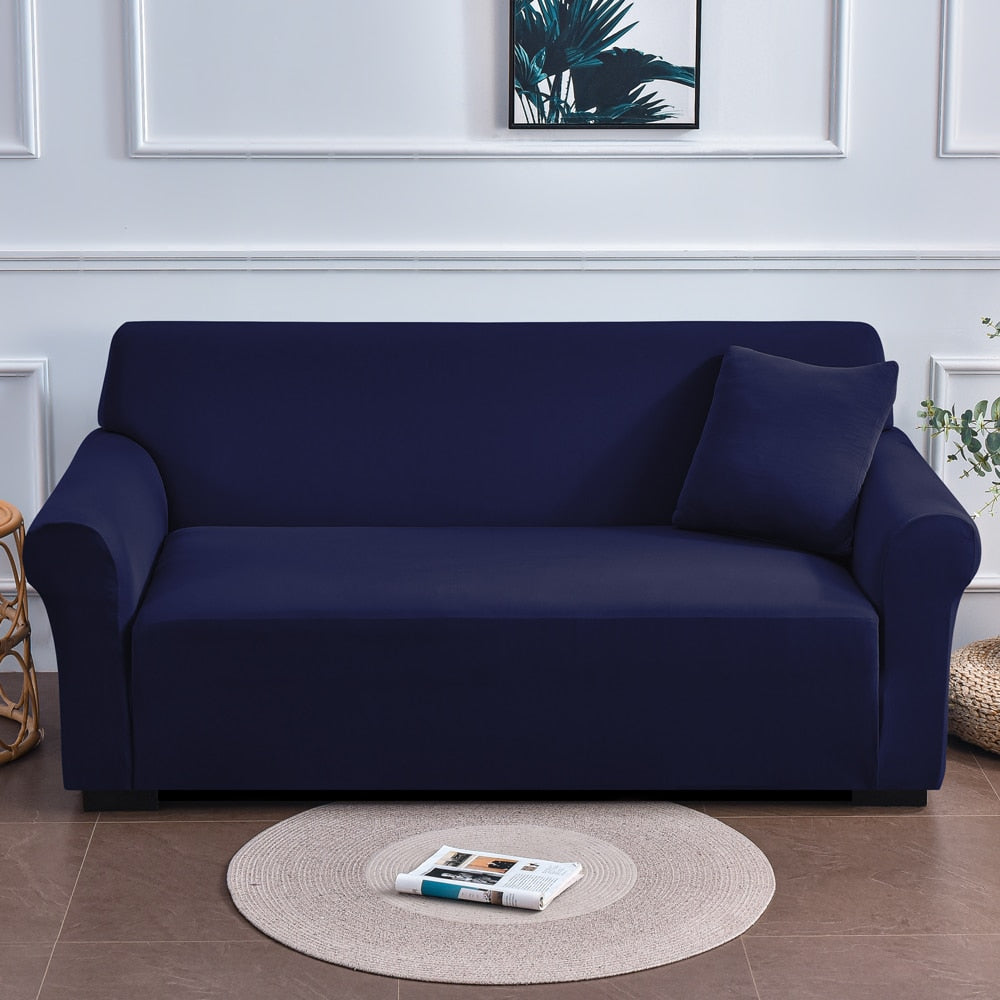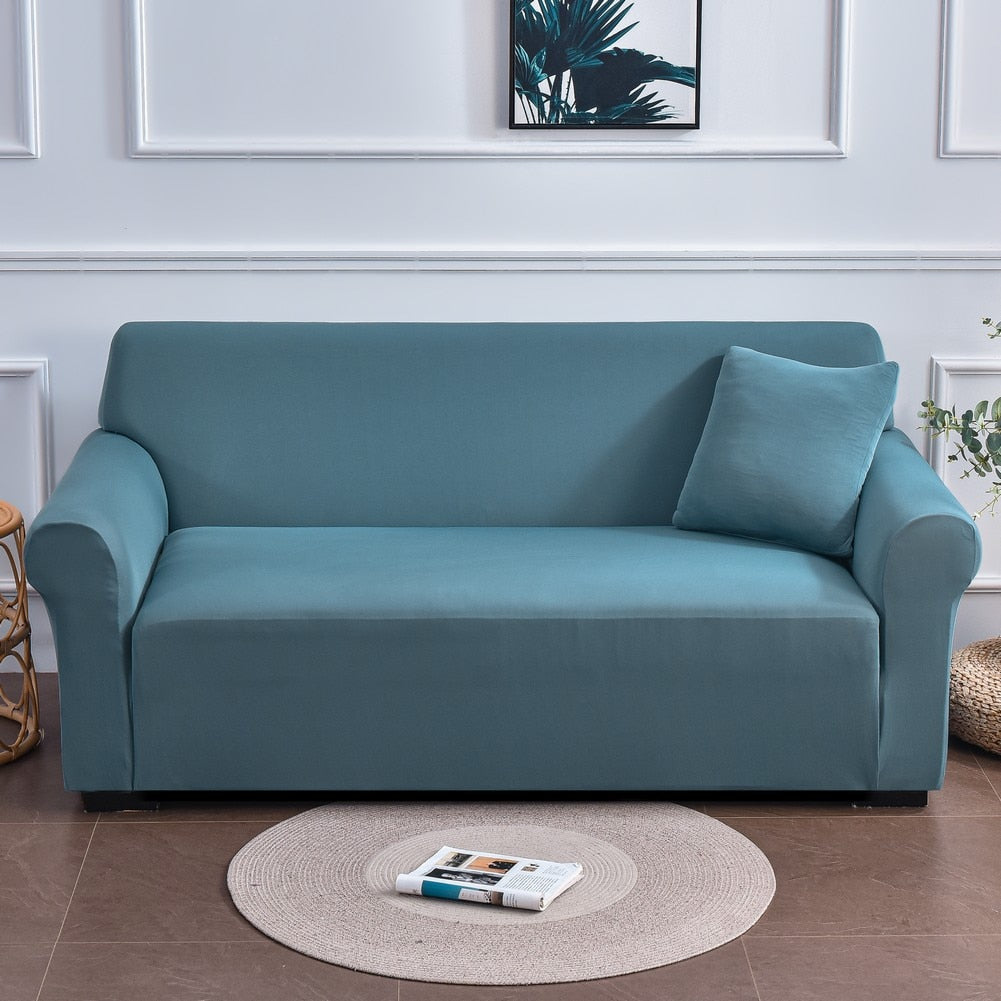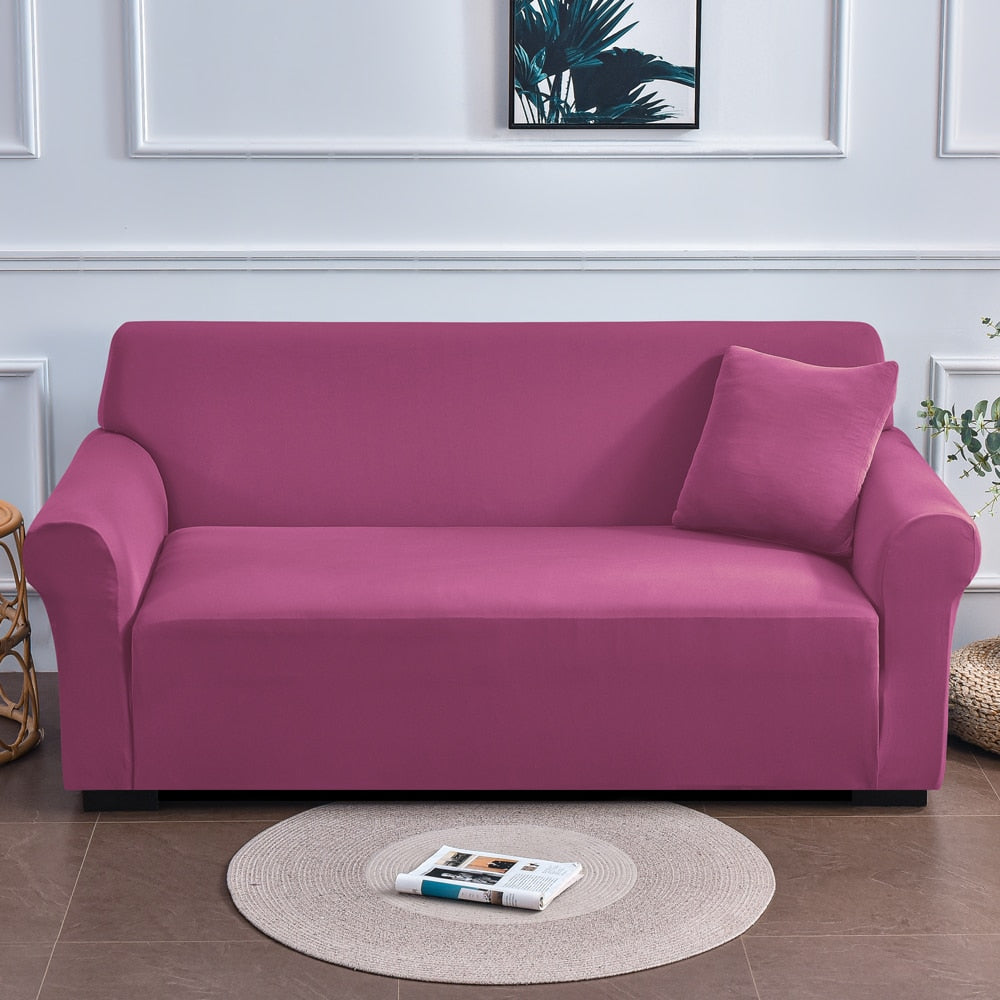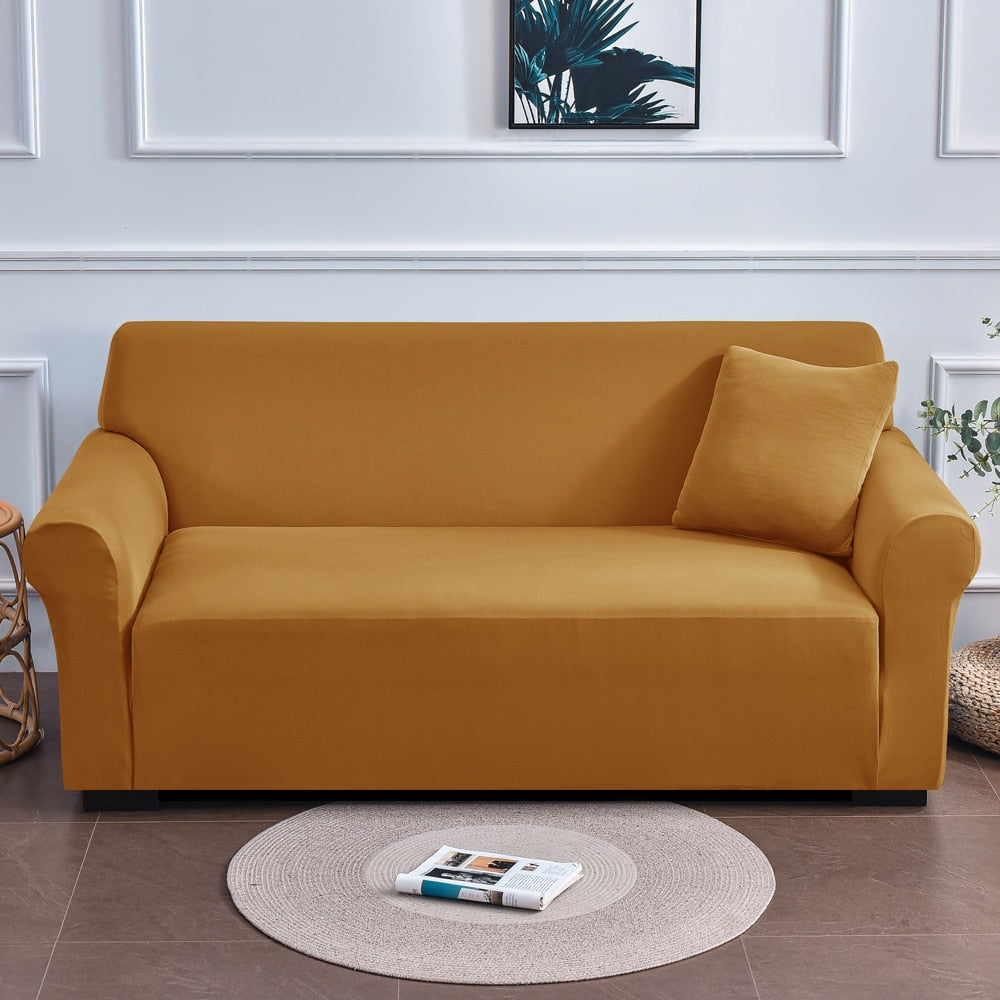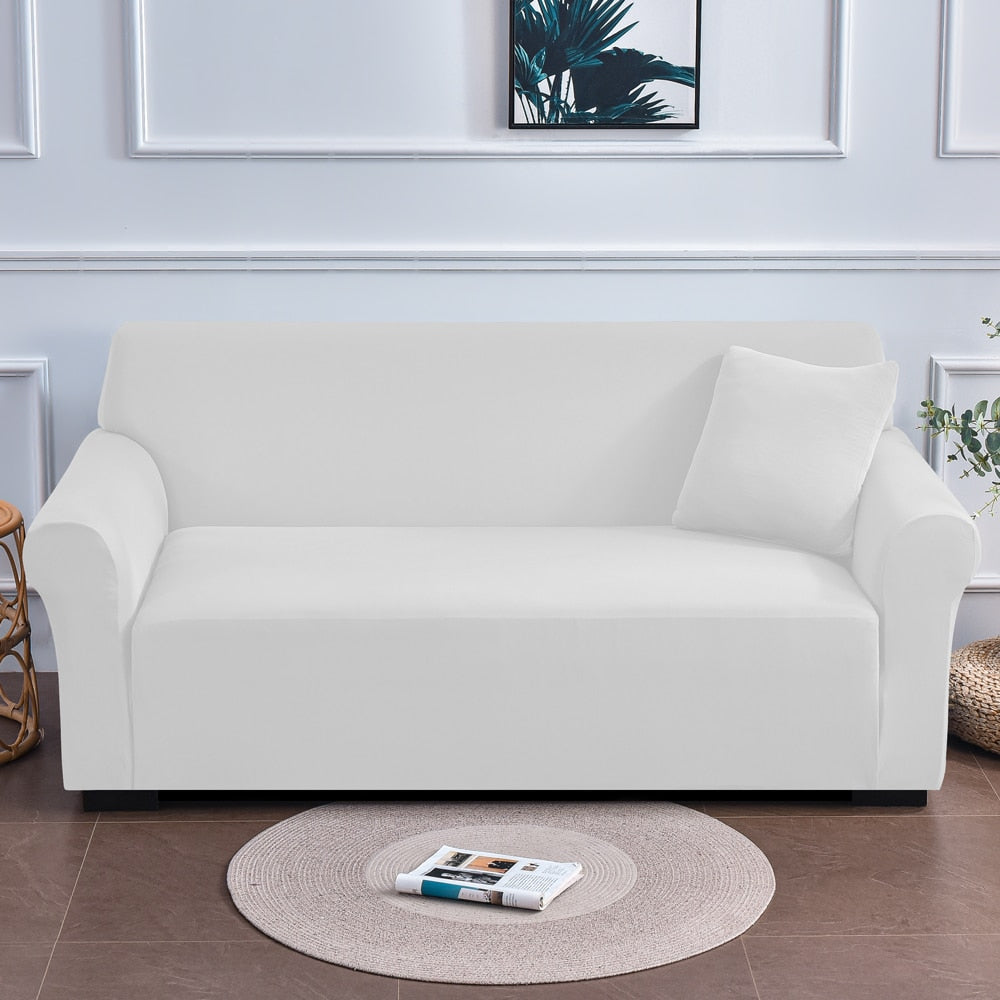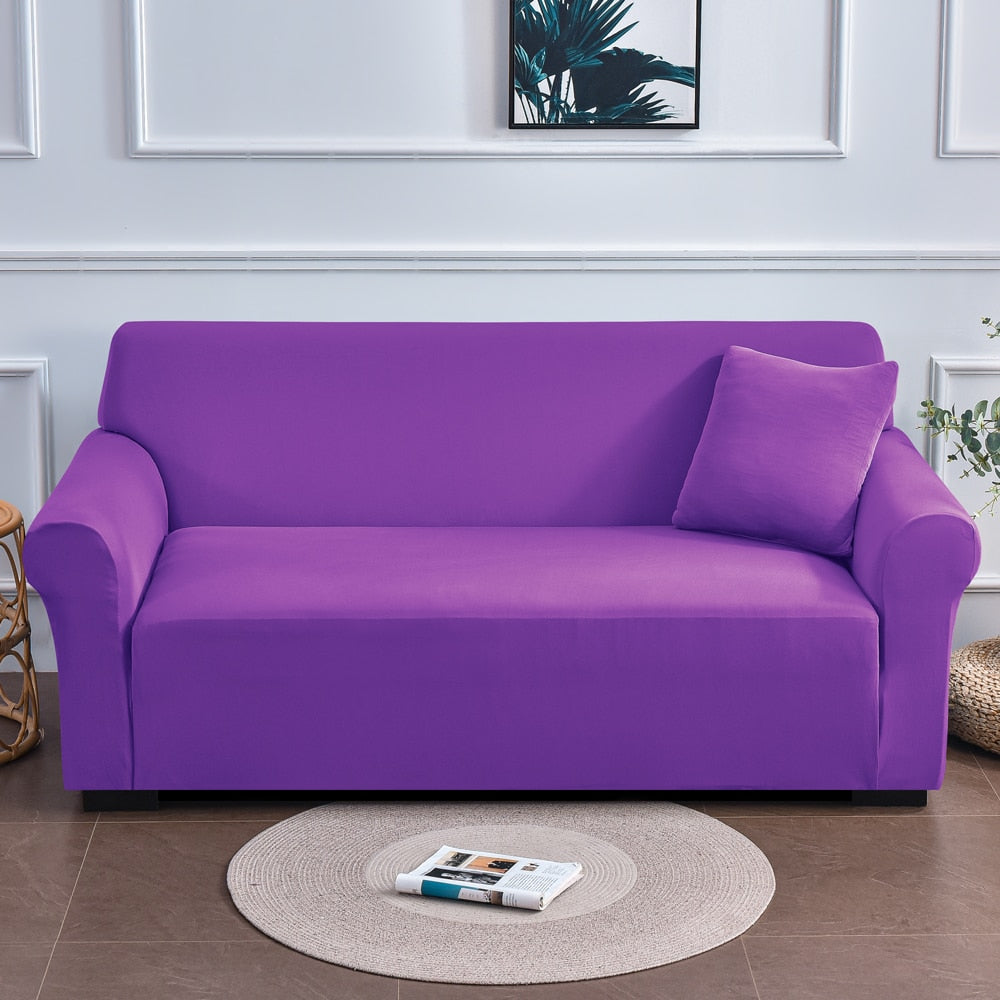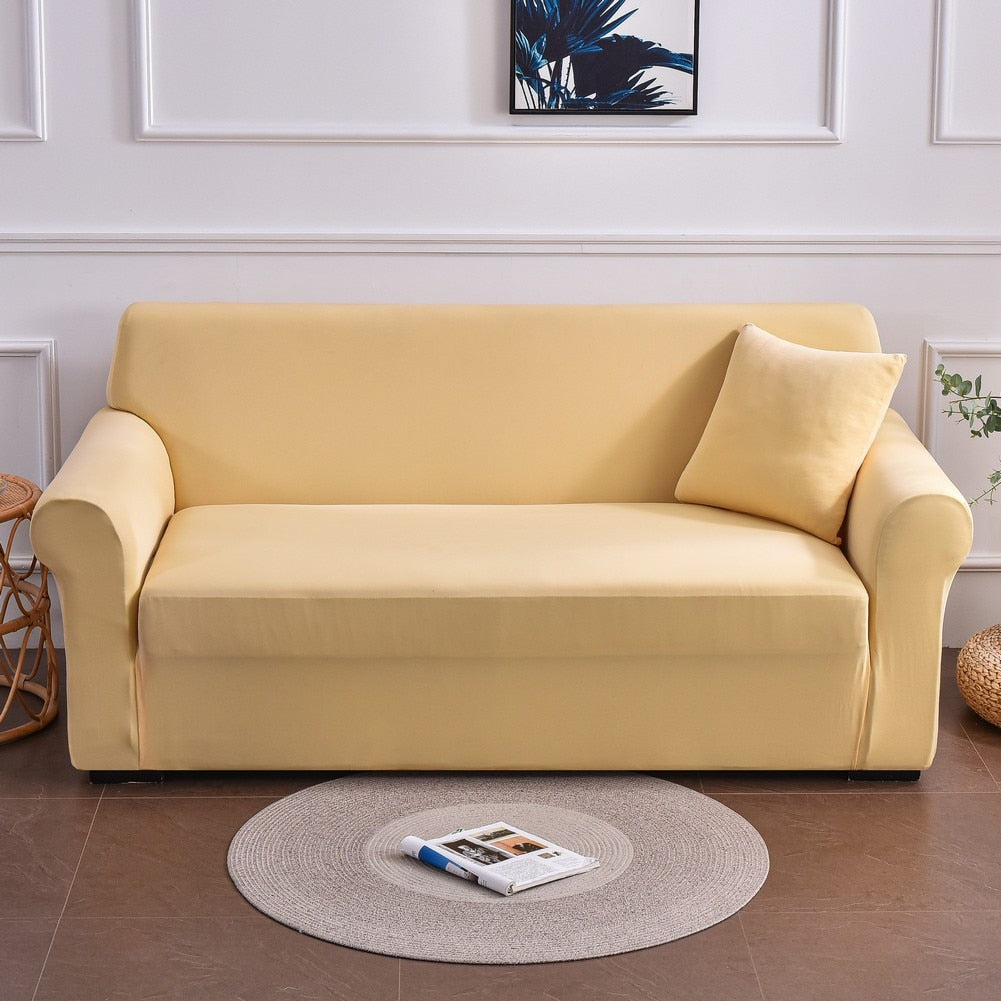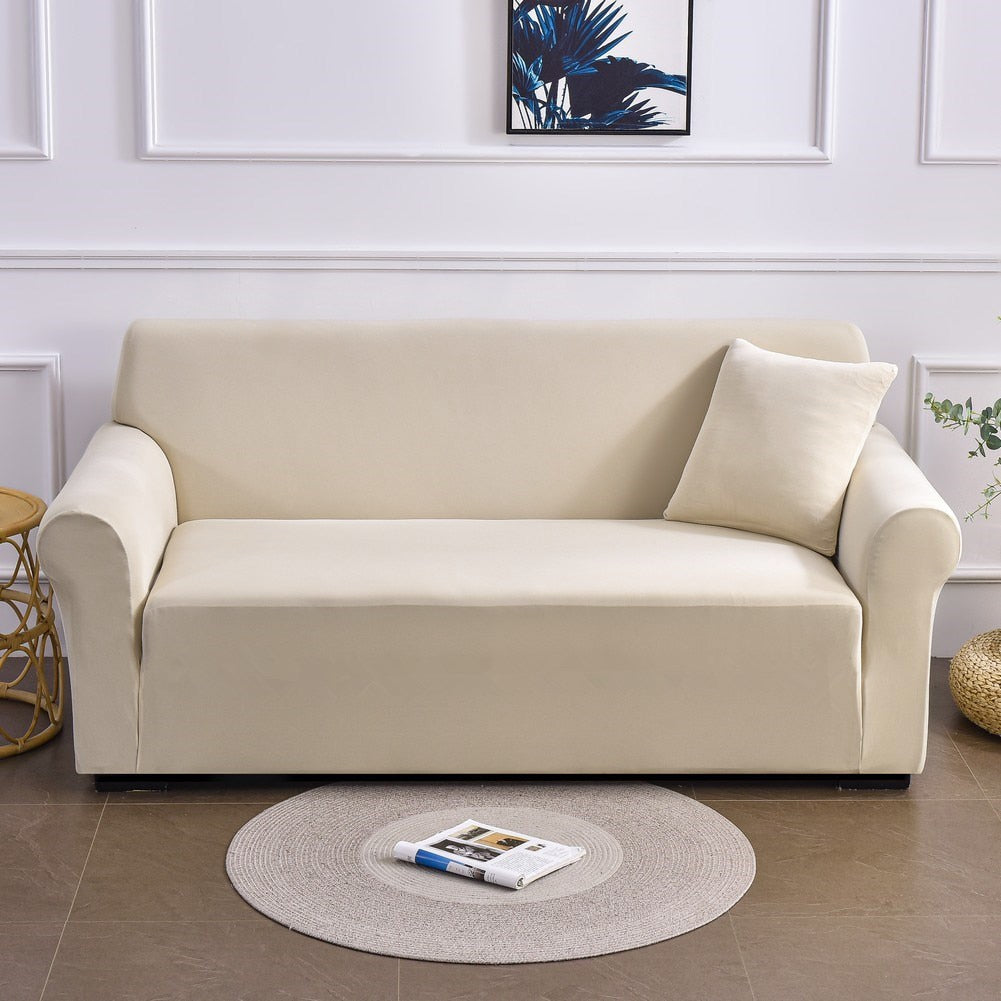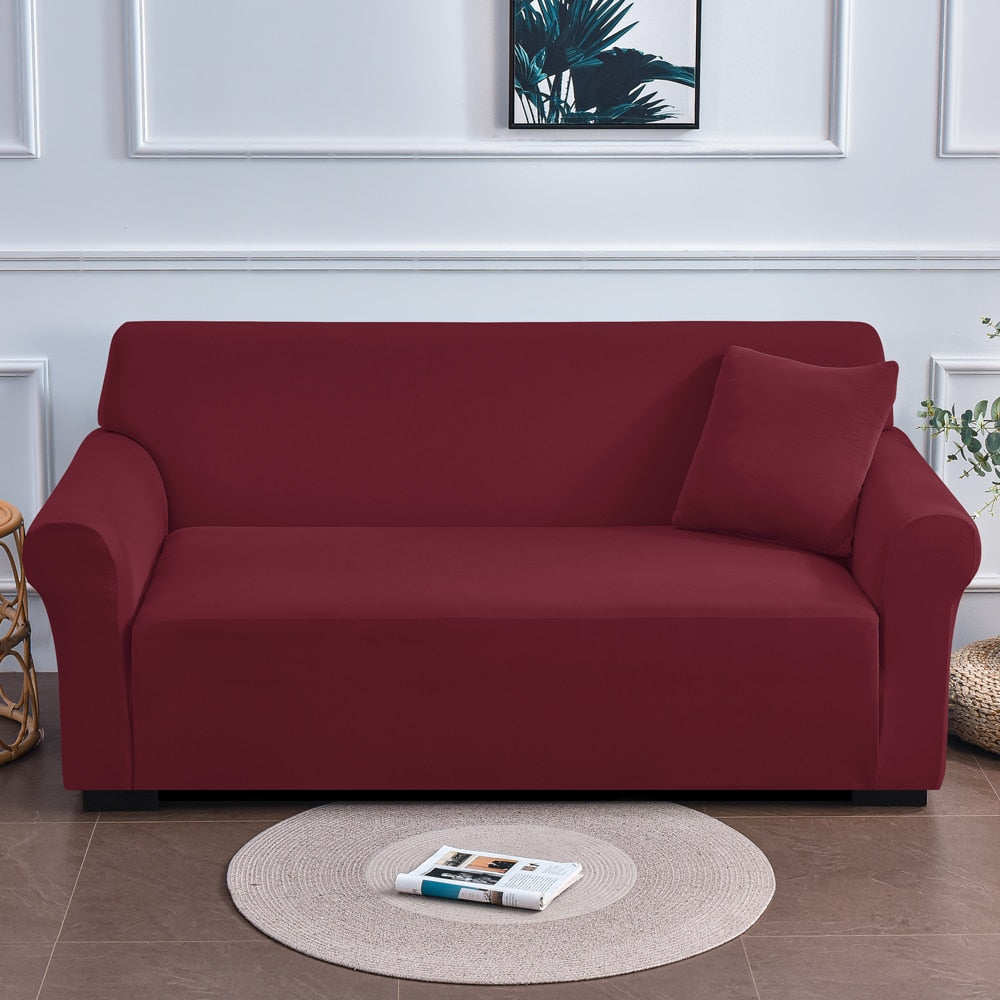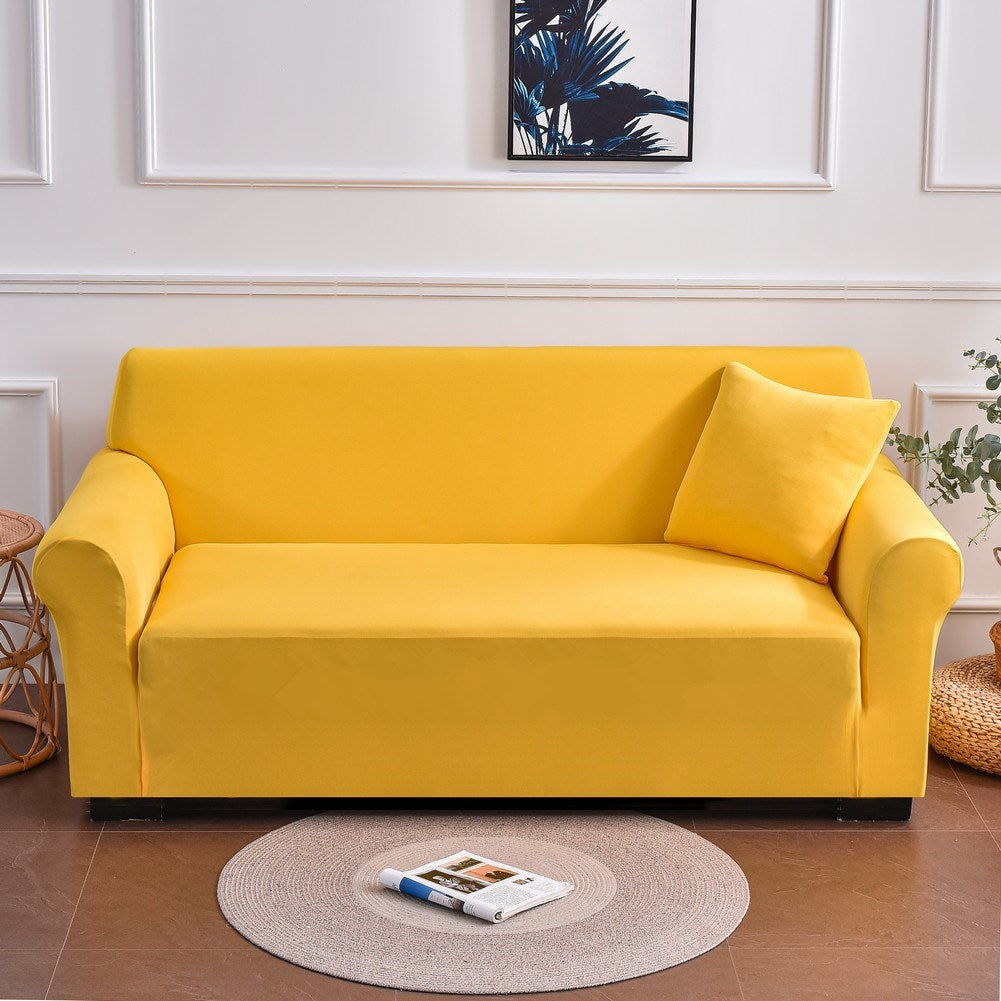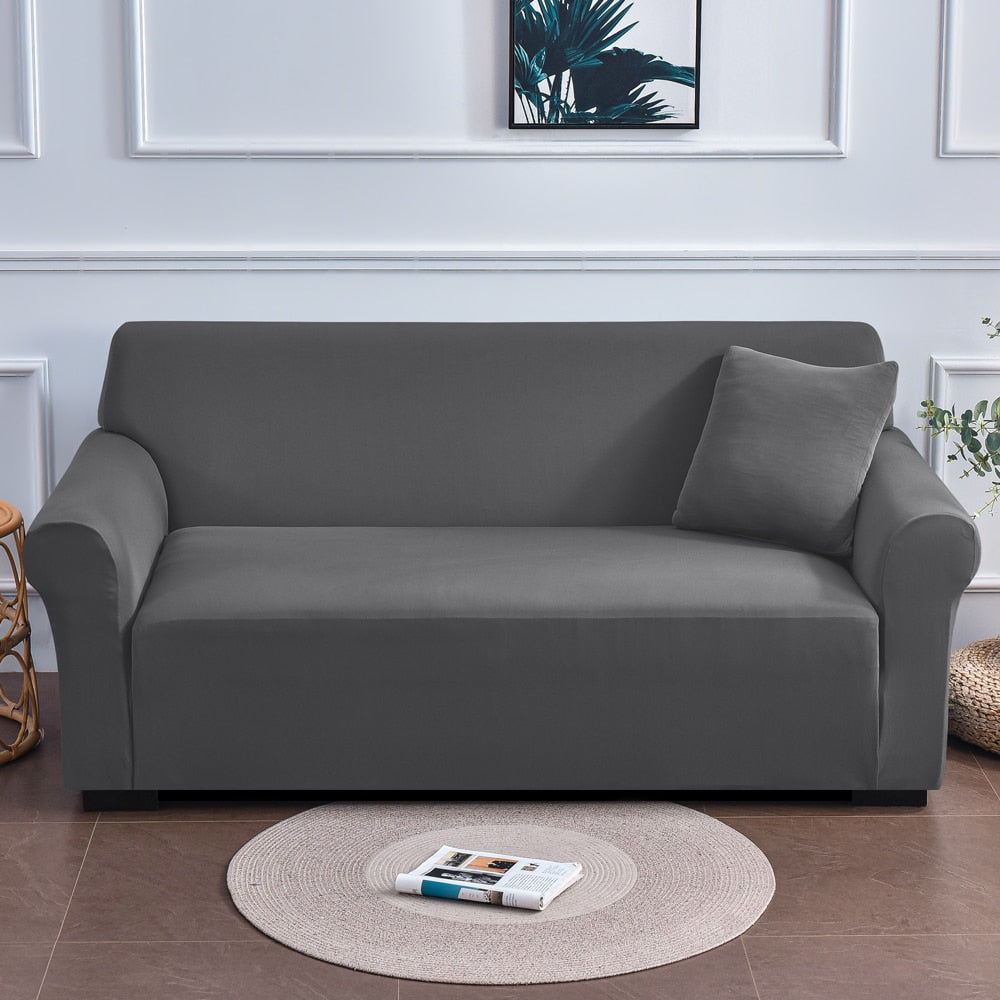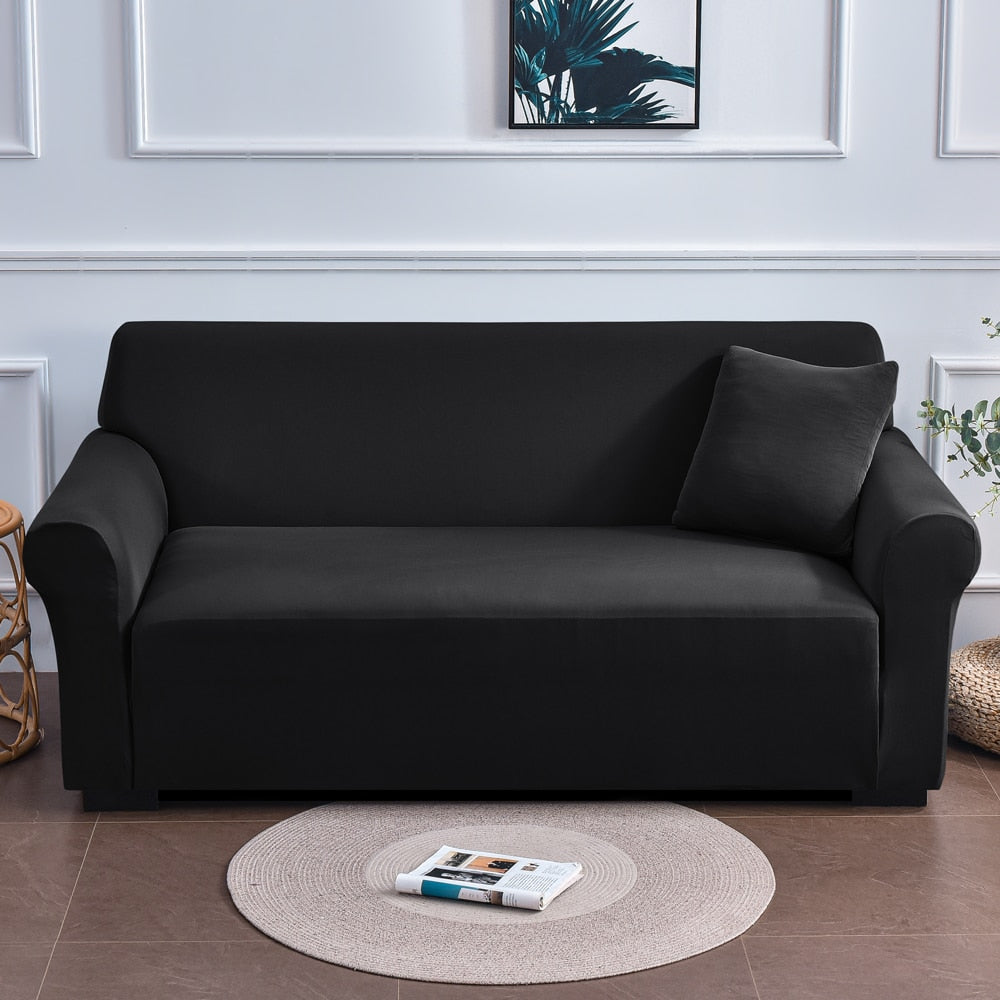 Your Satisfaction is our top Priority
✔ Buyer protection:

Minikauf offers all of our customer's buyer protection, which assures you of a full refund of the purchase price if you do not receive your order.

✔ Free Shipping:

All Minikauf.ch customer's benefit from free delivery on all online orders.

✔ Pay easily & securely:

All orders can be paid securely by PayPal, Credit Card or Bank transfer. Simply choose your preferred payment method.