Regular price
$140.00 USD
Regular price
$203.00 USD
Sale price
$140.00 USD
Unit price
per
Sale
Sold out
Pet Feeder

for Cats & Dogs
✔ For Dogs & Cats
✔ Create Feeding Plan
✔ 4 Liter Capacity
✔ Button Version
✔ No WIFI needed
including free shipping
The pet feeder for cats and dogs is a convenient device that allows pet owners to feed their pets even when they are not at home. The feeder consists of a container in which the food is stored and a timer that dispenses the food at certain times.
Unlike other pet feeders, this model does not require WIFI to work. This means you can simply program the machine and then run it without an internet connection. This makes the machine particularly user-friendly and easy to operate.
The dispenser's food container is large enough to store your cat or dog's food for several days, depending on how much your pet normally eats. The timer can be set to dispense food at specific times of the day
Friendly Tips:
The screen of the cat & dog pet feeder will turn off automatically if there is no operation in the 60

seconds

, which will go into sleep mode. But it still works according to the feeding schedule you set. If you want the screen to light up, you just need to press and hold the "Lock" button for 3 seconds to unlock the screen.

Button version: can 6 meals a day, up to 60 servings per meal, 6 ± 2g per serving.

Just set the number of meals and portions, the pet feeder can feed your pet automatically, no need to get up early.

In order to prolong the life of the feeder and prevent the food from getting stuck in the feeder, the food should preferably be dry food with a diameter of 4-12mm.
Please note:

It is not recommended for pets younger than three months.

It is recommended to use indoors, do not expose to direct sunlight and keep away from fire sources

Please use the original power adapter to avoid damage or malfunction of the device

It is strictly forbidden to soak the feed in water

To prevent pets from falling over the pet feeder, it is recommended to place it in the corner or against the wall.

Children should use under the guidance of adults.

Do not immerse the desiccant in water. If it is damaged, stop using it.

When you move the product or stop using it, please unplug the power cord and remove the bottom battery.

Except for maintenance personnel, the product shall not be disassembled and repaired to avoid accidental injury.
Installation Guide:

add food

Press the lid button to open and add food

Add desiccant

Take off the lid and open the desiccant box, insert the desiccant and close it

Install the food bowl

Put the bowl on the ground and stick the main body as the picture shows

Power on: Connect the charging cable to the power supply and the Type-C charging port at the bottom of the feeder

Add dry pet food and put on the lid (suitable for dry pet food with a diameter of 4-12mm
Instructions for manual feeding:
Double-click the manual feeding button, and then give a portion of the feed (about 5g) each time.
Indicator description:
Green light flashing slowly: Waiting for connection

Green light stays on: Connected

Red light flashes slowly: lack of food

Red light flashes quickly: Feeder is stuck

Red light off: Enough food
Answer questions:
Question: Why is no food given out?
Answer:
Please check whether the remaining feed is sufficient.

Please make sure pet food is dry food. This product only supports dry food.

This product may contain no more than 20%

be added to foods

for freeze drying

and must not exceed 12 mm in size.

Please confirm if the feed channel is full, this will reduce the number of feed portions.

If the feeder is stuck, please clean it and continue using after making sure the problem is solved.
Question: Why doesn't it work after being powered?
Answer:
Please check whether the plug is properly connected to the power supply,

Whether the machine is easily connected via the Type-C charging port.

Whether the power indicator lights normally
Product Details:

Product: Automatic

pet

feeder

Version: Button version

Feature: Freshness in every bite,

Detachable design for cleaning

Dual power supply (battery is not included)

Color: White

Size: 335*330*177mm

Capacity: 4 Liters

Weight: 1310g

Material: ABS/SUS 304/PC

Input Parameters: 5VDC/1A

Battery requirement: 4 * AA batteries (not included)

With Water Dispenser: No

Time Setting: Yes

Suitable: For dry food with a diameter of 2-12 mm

Power source: Charging

Plug type: EU

Minimum Output: 50 g

Maximum Power: 1000g

Material: Plastic + 304L stainless steel feeding Bowl

LCD Display: Yes

Is Smart Device: Yes

Function: press child lock to protect

Capacity: 4L (about 4kg) - for dogs to eat about 6 days / for cats to eat about 16-20 days
Share
View full details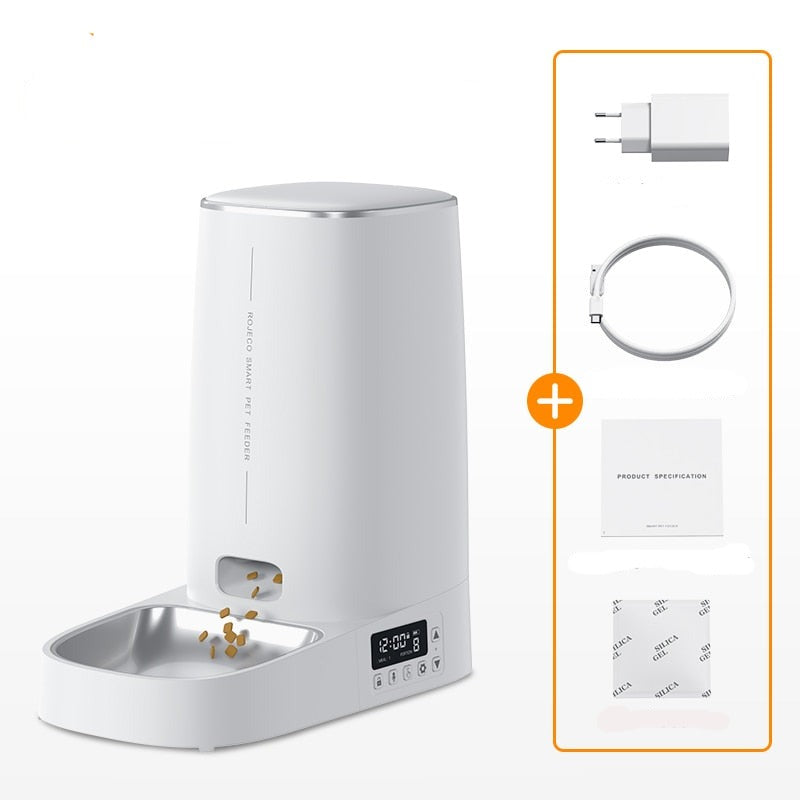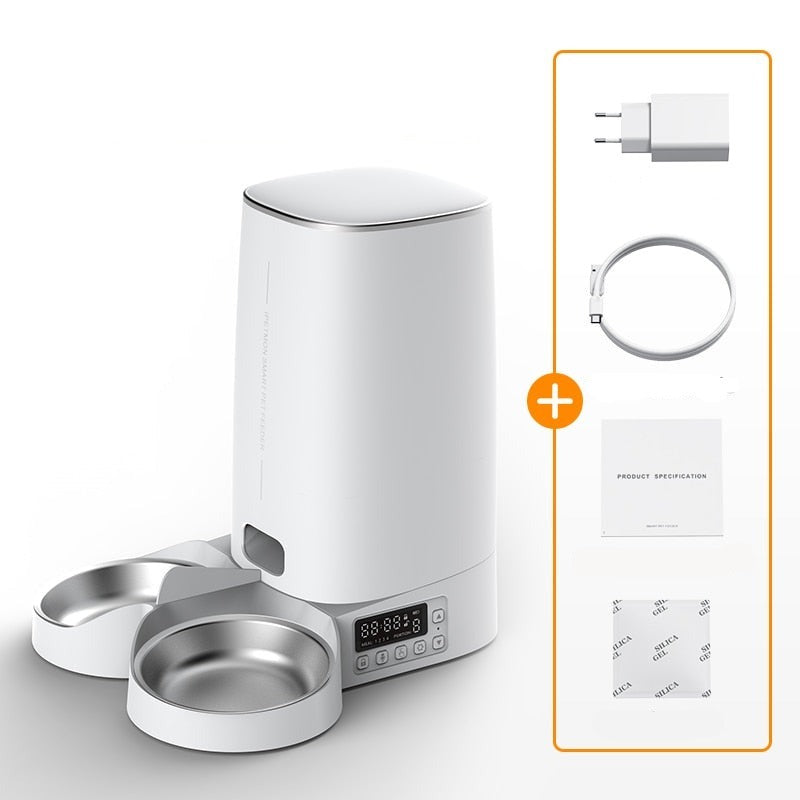 Your Satisfaction is our top Priority
✔ Free Shipping:

All Minikauf.ch customer's benefit from free delivery on all online orders.

✔ Buyer protection:

Minikauf offers all of our customer's buyer protection, which assures you of a full refund of the purchase price if you do not receive your order.

✔ Pay easily & securely:

All orders can be paid securely by PayPal, Credit Card or Bank transfer. Simply choose your preferred payment method.